Funding enables innovation.
With our extensive intragroup expertise in major EU/US public funds and trusted relationships with established VCs and Business Angels, we connect our businesses to and secure them with a plethora of public and private funding opportunities, enabling them to carry out their R&D and scale up activities.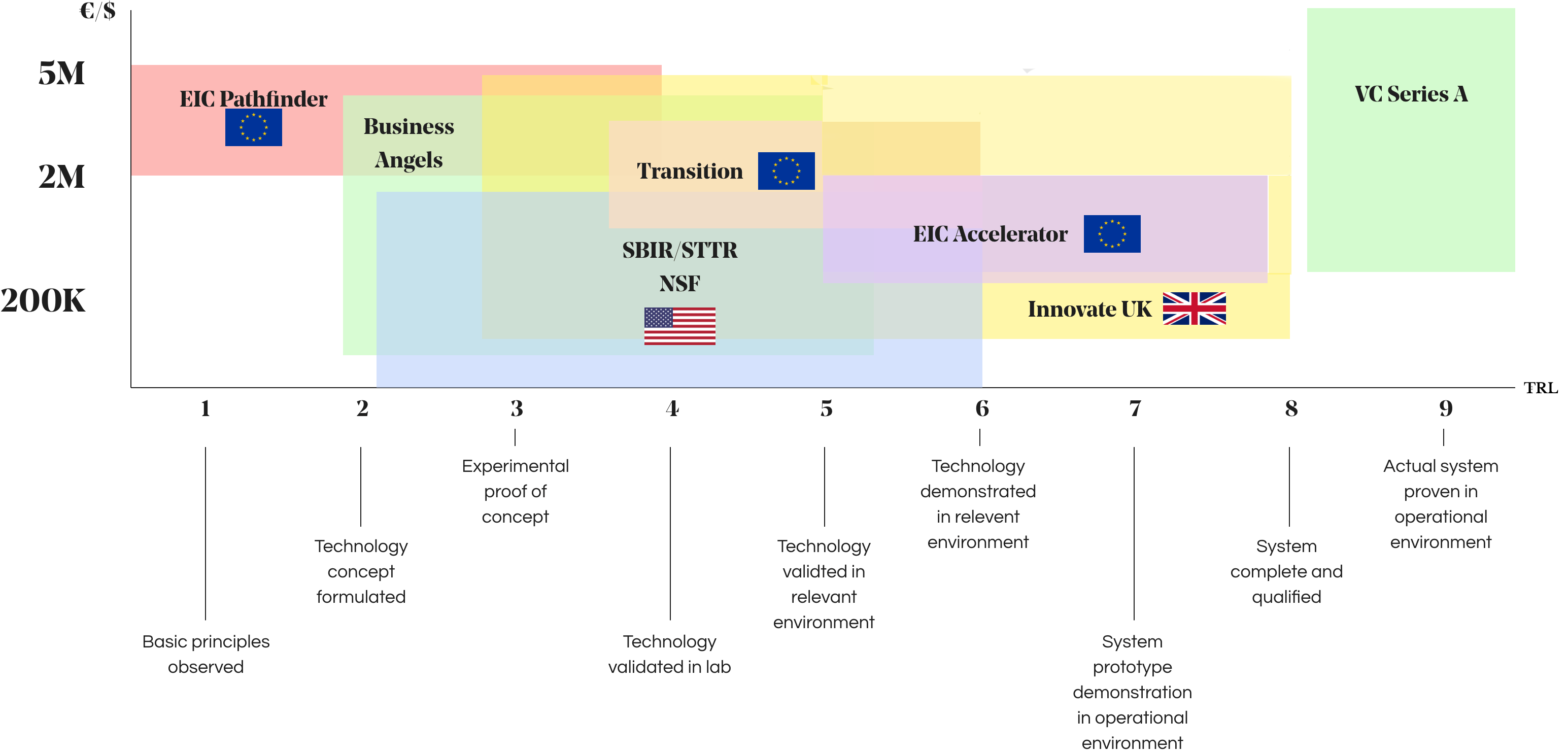 Scroll right to see the table...
| Name | Territory | TRL Range | Funding Range | Public/Private | Objective |
| --- | --- | --- | --- | --- | --- |
| Pathfinder | Europe | 1-4 | 3-4M€ | Public | Supports the exploration of bold ideas for radically new technologies and welcomes high-risk / high gain and interdisciplinary cutting-edge science collaborations. |
| EIC Accelerator | Europe | 5-8 | 500K-2.5M€ | Public | Supports individual Small and Medium Enterprises (SMEs), in particular Startups and spinout companies to develop and scaleup game-changing innovations. |
| SBIR/STTR NSF | USA | 2-7 | Up to 1.5M$ | Public | Focuses on high-risk, high-impact technologies with the potential to foster innovation and help create businesses and jobs in the United States. |
| Innovate UK Smart Grants | UK | 3-8 | 25K-2M£ | Public | Available for game-changing and disruptive ideas. Grants are for projects that can provide evidence for considerable potential to gain market share, generate economic impact and exports. |
| Italian Angels for Growth (IAG) | Italy | 2-7 | 10k - 2M€ | Private | A network of business angels, entrepreneurs and companies that invests in and supports startups, working to build a future where innovation receives the necessary resources to make a positive impact on society. |
| E-Novia | Italy | 8-9 | 2-15M$ | Private | Create and grow tech international Enterprises in selected and strategic business areas. |
| Alon Medtech | Israel | 8-9 | 2-15M$ | Public | An early stage venture capital that invests in novel technologies and solutions that significantly improve the well-being and quality of life of humankind around the globe. |